Voice Recognition: The AI That's Transforming Urgent Care

Verushka Patel
Clinical voice-recognition technology boosts ROI and improves treatment by speeding up record keeping and reducing physician burnout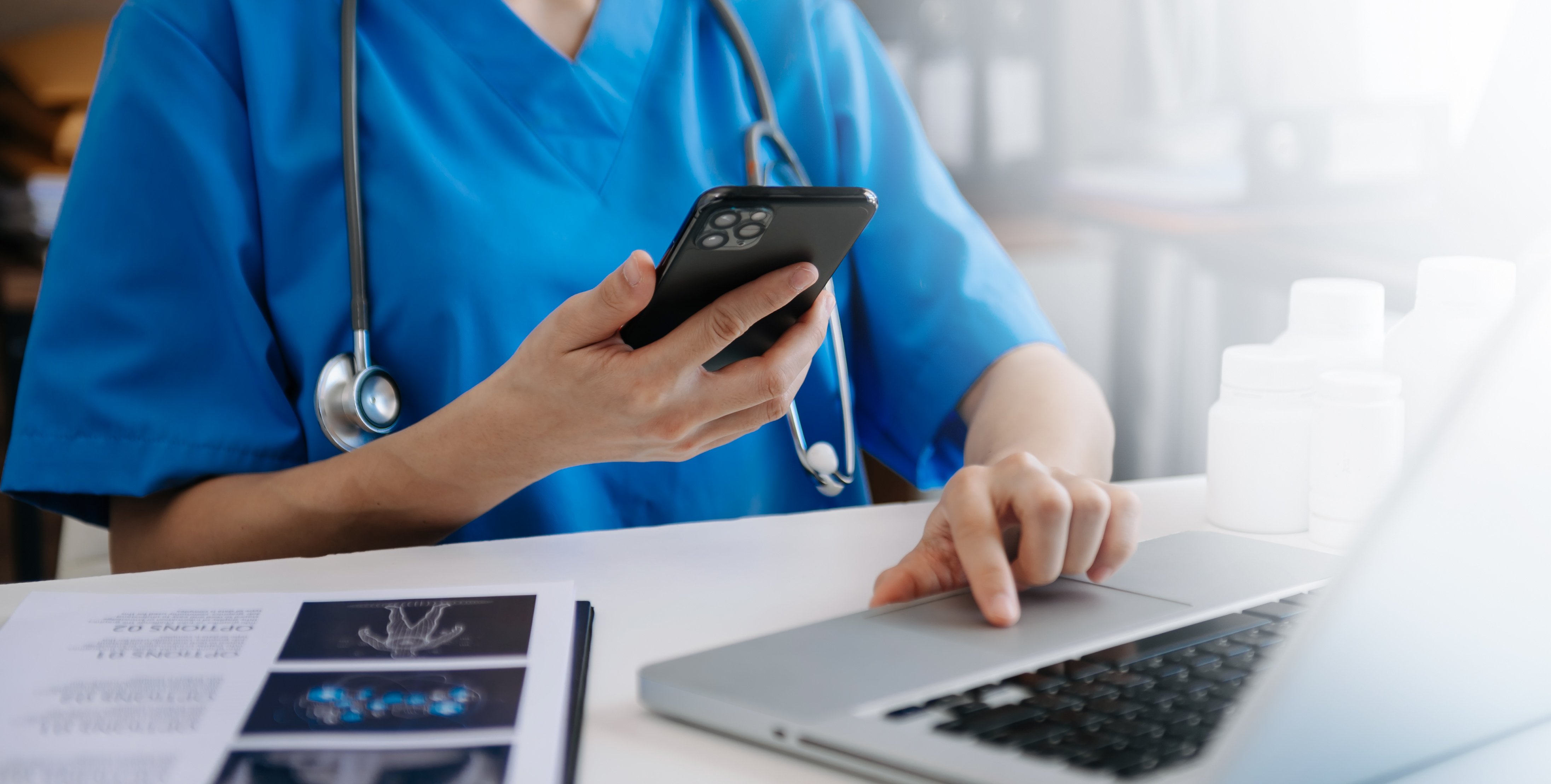 The COVID-19 crisis has renewed focus on the U.S. public healthcare infrastructure, with the need for walk-in urgent-care clinics increasing dramatically. In 2020, there were more than 9500 urgent-care clinics in the United States, and the number has increased by approximately 10% per year1
Despite their rapid growth, urgent care clinics have struggled to keep pace with demand. Since the beginning of the COVID-19 pandemic, urgent-care clinics have seen a 46% increase in visits, with 50% experiencing an average of 50-plus patient visits daily and 11% experiencing all-time highs, averaging more than 100 patients per day2.
A pandemic of burnout
Given the dramatic increase in demand, physicians working in these fast-paced clinics struggle with burnout3.According to a 2022 Medscape survey on physician burnout rates, emergency medicine and family practice providers ranked first and fourth among all specialties. Moreover, 60% of providers cite time-consuming charting and paperwork as leading factors contributing to burnout4.
High patient volume
Urgent care providers have some of the shortest patient turnaround times, with 97% of patient encounters lasting one hour or less, and yet each visit still requires quality clinical documentation. Family and emergency medicine providers spend close to six hours per day, both during and after clinic hours, documenting via their EHR5. Moreover, continually increasing regulatory documentation demands, such as the 21st Century Cures Act, coupled with the "often cumbersome implementation of EMRs," have led to greatly increased rates of burnout in urgent care6.
The solution: Medical Voice Recognition
To ease the burden and mitigate physician burnout, urgent care clinics increasingly rely on productivity-enhancing technologies such as voice recognition to reduce the time required for clinical documentation and manual type-and-click tasks in the EMR7.For example, clinics are using medical speech recognition software from Augnito to enhance efficiency and reduce burnout. Augnito's voice AI works with any EMR, and it is optimized to keep up with the high patient volumes and quick turnaround times typical of urgent care.
Augnito's features include customized templates for high-volume encounters such as annual physical exams, DoT physicals, and common illness diagnoses, enabling providers to reduce documentation times significantly. The Augnito solution also supports macros that can be triggered by single-word voice commands, to enter pre-saved standardized text for wide-ranging medical diagnoses and procedures.
Compliance and billing impacts
For urgent care providers, the ability to quickly enter comprehensive and visit specific information via macros into patient records "serves as a medico-legal protection in demonstrating holistic concern for the patient beyond their immediate presentation and, additionally, will also capture the complexity of care provided."8 This not only results in more effective patient care, but also supports compliance with recent overhauls in billing and coding in ambulatory care. The categorization of complexity of care as "problems addressed" is now one of the necessary elements of the medical decision-making portion of clinical documentation that determines billing level of service9.
Increased revenue
Augnito not only reduces physician burnout and supports compliance, it also increases revenue by allowing providers to see more patients and helps reduce cost by eliminating the need for scribes and medical transcriptionists.
A typical urgent-care provider sees 4.5 patients a day10.Augnito can save clinicians three hours per day on documentation11, potentially allowing them to see an extra 13.5 patients in the same amount of time. With the cost of each urgent care center encounter averaging $17112, this translates to an additional $2,308 in revenue per physician per day, by using Augnito. Given that the cost of an annual Augnito subscription is a small fraction of this potential added revenue, positive ROI can be realized in less than one day.
Augnito medical speech-to-text software enables urgent-care providers to reduce the burden of clinical documentation, thereby increasing both meaningful face time between doctors and their patients and number of patients seen. Augnito can help urgent-care clinics minimize provider burnout by improving efficiency and maximize revenue by increasing patient throughput, all without reducing standards of patient care.
References
Urgent Care Industry White Paper 2019-2020. Urgent Care Association. (2019, November). Retrieved August 9, 2022, from https://www.ucaoa.org/Resources/Industry/White-Paper
Napolitano, B. (2021, June 17). Managing urgent care provider burnout. Experity. Retrieved August 9, 2022, from https://www.experityhealth.com/webinars/managing-provider-burnout/
Ayers, A. (2018, September 9). Recognizing and preventing provider burnout in urgent care. Journal of Urgent Care Medicine. Retrieved August 9, 2022, from https://www.jucm.com/recognizing-preventing-provider-burnout-urgent-care/
Kane, L. (2021, January 21). Physician Burnout & Depression Report 2022: Stress, anxiety, and anger. Medscape. Retrieved August 9, 2022, from https://www.medscape.com/slideshow/2022-lifestyle-burnout-6014664?faf=1#1
Arndt, B. G., Beasley, J. W., Watkinson, M. D., Temte, J. L., Tuan, W.-J., Sinsky, C. A., & Gilchrist, V. J. (2017, September 1). Tethered to the EHR: Primary care physician workload assessment using EHR event log data and time-motion observations. Annals of Family Medicine. Retrieved August 9, 2022, from https://www.annfammed.org/content/15/5/419.full
Ayers, A. (2018, September 9). Recognizing and preventing provider burnout in urgent care. Journal of Urgent Care Medicine. Retrieved August 9, 2022, from https://www.jucm.com/recognizing-preventing-provider-burnout-urgent-care/
Urgent Care Industry White Paper 2019-2020. Urgent Care Association. (2019, November). Retrieved August 9, 2022, from https://www.ucaoa.org/Resources/Industry/White-Paper
Blachford, A. (2022, May 25). Addressing without managing: Defusing the ticking time bombs in urgent care. Journal of Urgent Care Medicine. Retrieved August 9, 2022, from https://www.jucm.com/addressing-without-managing-defusing-the-ticking-time-bombs-in-urgent-care/
Evaluation and management changes for 2021. ACOG. (2021, January 1). Retrieved August 9, 2022, from https://www.acog.org/practice-management/coding/coding-library/evaluation-and-management-changes-for-2021
Urgent Care FAQ. American Association of Urgent Care Medicine. (n.d.). Retrieved August 9, 2022, from https://aaucm.org/faq/
Augnito White Paper(2021). Retrieved August 9, 2022, from www.augnito.ai
Wang, B. (2021, April 1). Urgent Care Centers deter some emergency department visits but, on net, increase spending: Health Affairs Journal

. Health Affairs. Retrieved August 9, 2022, from https://www.healthaffairs.org/doi/10.1377/hlthaff.2020.01869